"For the Theater Lover ~ young or old"
With Thanksgiving coming to an end tonight, the Christmas Spirit is already in the air. When I think of Christmas, I think of special times spent with my loved ones either at home watching movies, snuggling by the fireplace or out on the town doing one of our many holiday traditions. As long as we are creating memories, that's all that matters. It doesn't have to cost a lot of money, because you can't put a price tag on time spent together, any time of the year.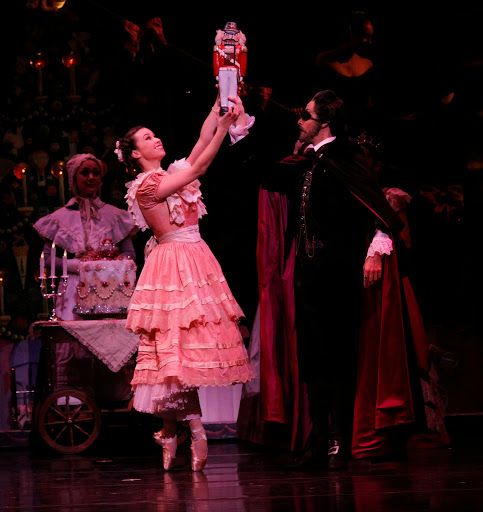 For the first installment of my 2013 Holiday Gift guide I wanted to talk about gift for the "Lover of the Arts". Now this could be an adult who has always enjoyed the theater, or even a young child experiencing a stage show for the very first time.
My daughter Lily is 4 years old and has been taking dance classes for a year and half now. She loves being up on stage, performing a show that her and her class practiced for many months prior. This year, she is performing to a song FROM The Nutcracker, so it makes taking her to this show even more exciting, for the both of us.
Kicking off December 6th and running through the 28th, The Joffrey Ballet presents "The Nutcracker" and what better way to put a sparkle in a little girls eyes than to take her to a professional ballet production for her first theater show? The show is taking place at the gorgeous Auditorium Theater, along with live accompaniment from Joffrey Music Director Scott Speck of the classic score of Pyotr Ilyich Tchaikovsky. I can't wait to "Oooo" and "Ahhh" and watch Lily's face as she sees the ballerina's dance across the stage. I can't wait to hear what she thinks of the show over dinner at a fancy restaurant I plan on taking her to afterwards. And I can't wait to hear her tell all of her friends at dance class where she went and what she saw.
Tickets
Single tickets, priced between $31-$132, are available for purchase at The Joffrey Ballet's official Box Office located in the lobby of Joffrey Tower, 10 E. Randolph Street as well as the Auditorium Theatre of Roosevelt University box office, all Ticketmaster Ticket Centers, by telephone at (800)-982-2787 or online at
www.ticketmaster.com
.
I am provided with compensated tickets to the show in
exchange for sharing this information with you.
As always, regardless of product provided or compensation,
all words, thoughts, and viewpoints are solely my own.