It's here. Back to School time. The bins of school supplies are already out in stores. I am seeing home goods stores promoting sending your kid off to college. And I can't even begin to mention the Back to School clothes shopping and promoting I am seeing.
In our school district, the first day of classes is in just less than 6 weeks. 41 days to be exact. And I am a jumbled up mess of emotions. It is obviously bittersweet for me, as it is for so many other parents sending their first child off to elementary school. And I know, some of you are praying these 6 weeks go by so quickly you can barely blink. And I get that too. I will probably feel that someday too, but for now, I am torn.
My 5 year old will be going off to full-day kindergarten and he couldn't be more excited. I of course have played up how awesome it will all be (and it will be, for sure!), but the twinges and pains and tiny pieces of my heart that are breaking stay tucked inside, so he can't see them). Sigh.
With Back to School comes all this shopping. Shopping, shopping, and more shopping. Luckily, there is a pretty cool company who is trying their very best to make it a little less stressful and time consuming for you Mama, and I am pleased to share them with you.
The Write Stuff
is your online resource for Back to School shopping! They create prepackaged School Supply kits that are representative of what your particular school and teachers are requiring for your child to bring for the year. I'll admit, there are not any schools in my district that have yet to partner up with The Write Stuff, but I can also shop al a carte on their site as well.
I was concerned that shopping al a carte would end up being more of a hassle than a help. Choosing each pencil, each eraser, each ruler.....yikes. But Jonah really had fun with it! And getting him involved while in the comfort of our own home and without fighting in the aisles of Wal-Mart is awesome to me! And I figured the prices would be sky high and the quality and brands would be knock-off's, but I was wrong on both accounts there. They show you the RETAIL price for a majority of the items, and then show you your COST. And with brands like Mead, Crayola and Ticonderoga, you get a variety to choose from as well. Don't get me wrong, I am no expert on school supply shopping but getting the best price for our purchases, and saving time and my own sanity, then I AM SOLD.
For example, here are a few screen shots from their website: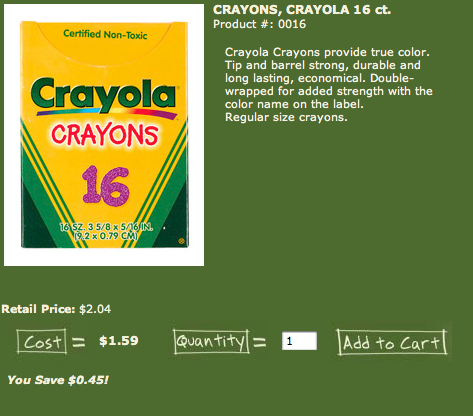 What I love is how they openly tell you the retail price these products sell for regularly in stores. Now, I know, I know, there are some fantastic Back-to-School sales where you can get some items for mere PENNIES! And maybe for you seasoned mom's of kids who have been in school for years and years, you know where and when to find those steals. But in my opinion, if prices are comparable to those at the stores, and I don't have to fight the other mom's, kids, crazy people to get my 10 glue sticks for a penny each (assuming they are totally sold out when I get there and I really only need ONE anyhow, then I might stick with getting the essentials and items I ABSOLUTELY need from The Write Stuff and brave those sales for extra odd's and end's items to donate to the classroom or save for our at-home craft cabinet.
I was sent a standard Kit to check out so I could see what it's all about and I must say I love it. To think I could go on the site, pick and choose what my kids need, and be done with it just that fast is music to my ears. Jonah was so excited to get everything out and see it, knowing most of it he would be packing in his new backpack for school very soon. Everything was packed nicely and securely, and before I know it, 6 weeks will be here and gone and I will be sending my kindergartener off to the bus stop.
Where did the time go? How are you handling/handled sending you kids off to kindergarten for the first time?
WIN IT!
The Write Stuff wants to give away one sample school supplies box, similar to the one they sent me, to one lucky Mommy Instincts reader! Enter below!
a Rafflecopter giveaway