I have worn glasses since I was in first grade. Needless to say, my vision is horrible. I wore a patch over one eye as a kid (argh...me's a pirate), and now at the age of 32, my next pair of glasses will include bifocals. My eye doctor cannot even correct my vision to 20/20 like he used too....dang I am getting old.
Luckily, my vision issues aren't directly related to any sort of UV exposure (At least not that I have ever been told), but I also was never really given the opportunity to wear sunglasses as a kid. Prescription sunglasses weren't an option back then, and even now, even the very best eye insurance companies only cover ONE pair of glasses at a time. Obviously, I cannot wear sunglasses 24 hours a day, so I am very limited on protecting my eyes.
Neither one of my kids wear glasses( yet!), so getting (and keeping) protection on their eyes is very important. And after my chat with a few experts along with The Vision Council, I have learned just how important it is to consistently get my kids to wear sunglasses, any and every time they are out of the house.
According to Dr Dora Adamapoulos (medical advisor to The Vision Council), children receive three times the annual sun exposure of adults, and they have an immature lens, which makes them especially susceptible to UV-related damage. UV exposure at any age can cause both short and long term vision problems – many of which can't be reversed.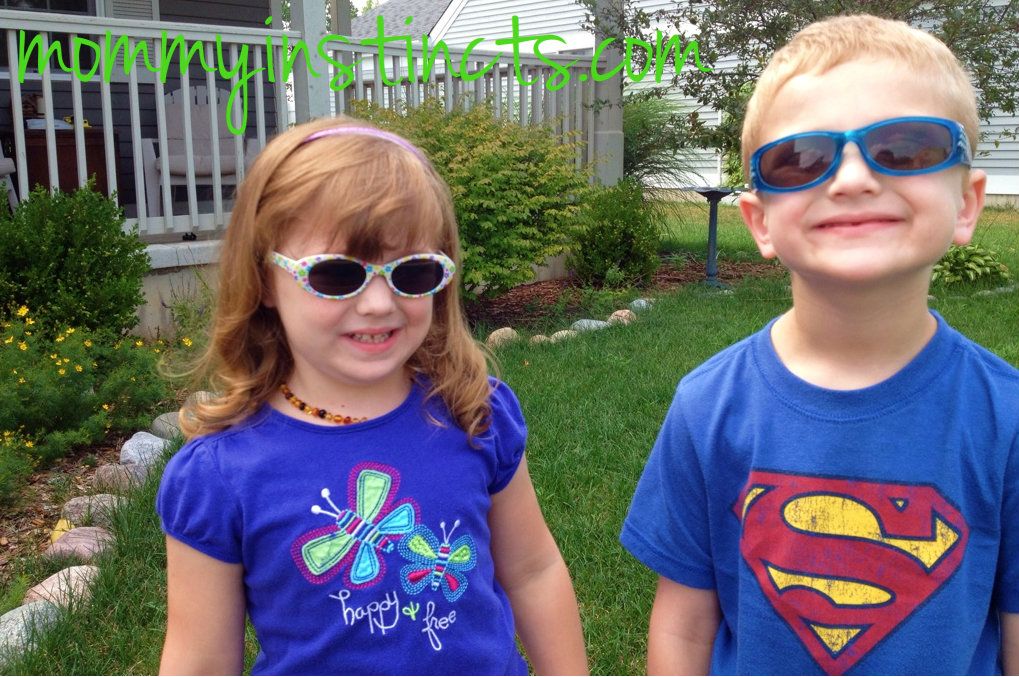 Cute character sunglasses are just that, CUTE. But unless you buy them from a reputable retailer (don't worry most drug stores and places like Target and Wal-Mart ARE considered "reputable retailers"), you might just be getting your kids to wear sunglasses that have no real value to them. Be sure that their are properly labeled,
"To determine if your sunglasses are reliable, look for a little sticker or tag on the lens that shows compliance with criteria set by the American National Standards Institute (ANSI). The label "UV 380" covers all UVA and UVB rays" says Jamie Shyer, chairman to The Vision Council.

I am making it my mission to go out and find a few good pairs of sunglasses for my kids ASAP. A pair for home, a pair for in the car, and a pair for on the go. This way we should be able to always quickly and easily get a pair on and make it a ritual to wear them whenever we are outside, even on the cloudy days, and even in the winter.
The Vision Council has a fun and interactive website, Missing Sunglasses that has plethora of information on eye protection and everything you can do and avoid to keep your kids eyes in tip-top shape. They don't use fancy and technical language, so it's easy to read and right to the point, which I like, and I know you will too. I especially like the option to find your daily UV Index by entering my zip code
(i blurred out my zip code for security reasons)
Do your kids wear sunglasses? Just sometimes, or all the time? If they are young, how did you get them to wear them all the time?