Last Thursday, I had to take Jonah out of school early for a doctors appointment. I hated to do this. He had only been in school a week, but getting into this doctor we were seeing can be a challenge, so even though I made the appointment at the beginning of the summer, August 30 was the earliest we could get in. And this appointment, well, wasn't going to be a pleasant one. Jonah had to undergo allergy testing to see if we could find a solution to his life-long eczema we had been battling. So, knowing that I was going to personally feel bad because of the torture he would ensue (okay, it wasn't really that bad....but it really upset him), I wanted to give him a few things to look forward to afterwards. I told him we needed to stop at Walmart to get a few things for dinner and that he could pick out a game for our Family Game Night. And if he was REALLY good, then we'd also stop at our favorite candy shop.
We made it to Walmart in the late afternoon and the first thing I noticed was the display of fall colored flowers just outside the entryway doors. I am so excited for fall, so this was really nice to see. The kids picked out one of those mammoth carts with the big plastic seats attached. Oh my goodness, please remind me to NEVER get one of those again! It was like trying to navigate the Titanic through a china shop. Ugh.
We first headed to the frozen food section to pick up some quick eats for dinner. We were on the lookout for
Tyson
Chicken Nuggets, Ore-Ida Golden Crinkle Fries, and of course, some
Heinz
ketchup to go with it. I love how at our local Walmart the frozen food section is pretty much right when you walk in the door, easy to find and you don't have to navigate through tons of other stuff to get to it.
We found the Ora-Ida French Fries section first, and I must say, there was a large variety to choose from. But the one we came to get was totally sold out! No worries for my little guy though, he picked out the Shoestring kind, and we were all happy.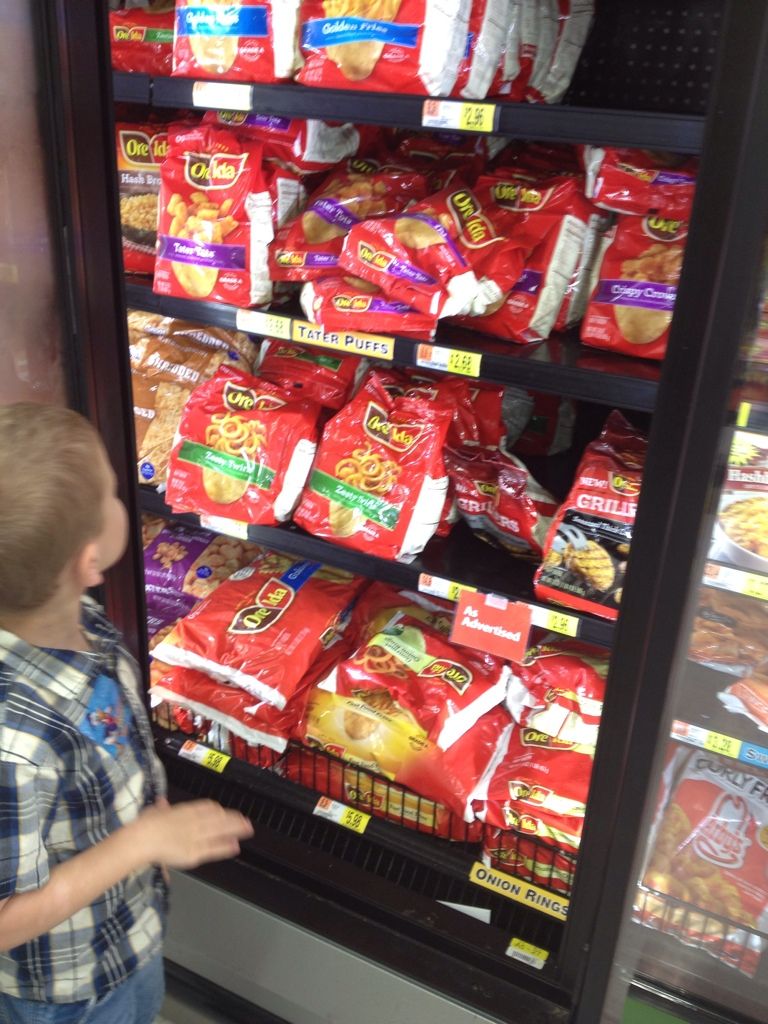 Next we were on to find the Tyson Chicken Nuggets! Jonah was a great helper!
After a few pit stops, and losing Jonah and Daddy a few times (doesn't that always happen?! Please tell me I am not the only wife who ALWAYS loses her husband in a grocery store), we made our way over the game aisle. Tons to choose from, but it seemed as though the Hasbro selection was quite limited. After going over a few games like Connect Four and Candy Land, we decided on Twister! Wow! I hadn't played that game in many many years.
We headed home, with a much happier little boy (I'm sure the stop off at the candy shop helped too). Both kids napped for a good while and when they woke up, I already had the oven pre-heated and awaiting my little helpers.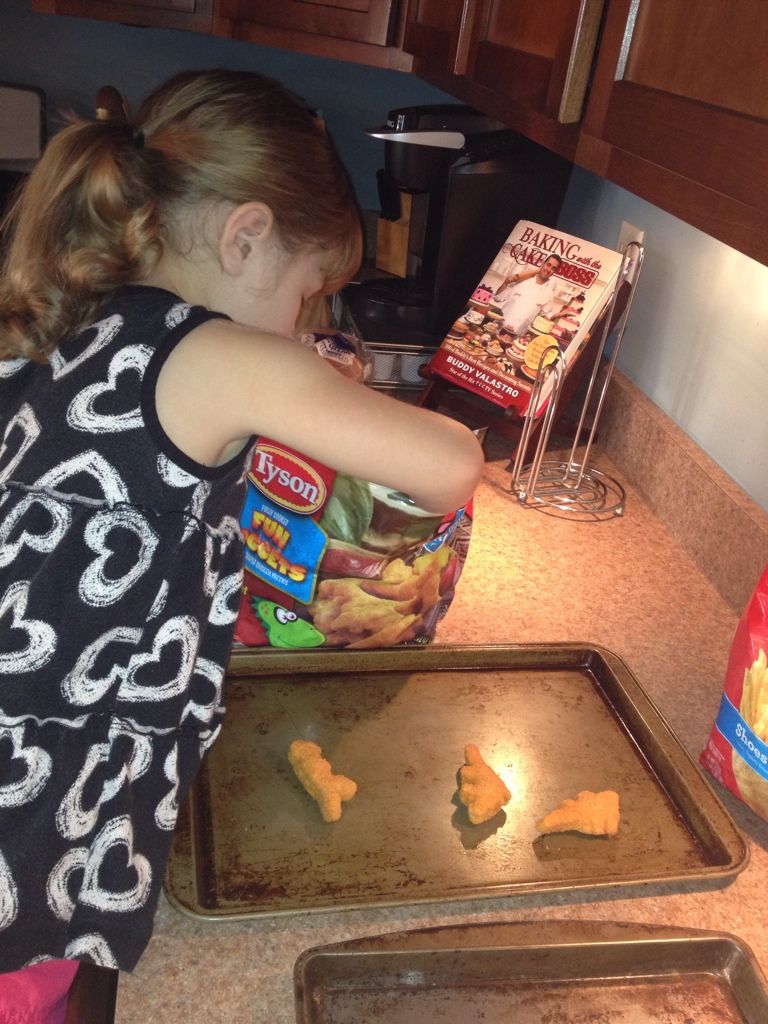 It's simple times like these that I often find myself using it as a learning experience for my kids. And now, Lily will do the counting all on her own.
It had gotten fairly late and the kids napped much later than usual, so we decided to play some Twister while the chicken nuggets and fries baked. And oh boy! Was it fun! The kids had a blast watching me twist-and-turn my "I am no longer 21 years old" body. We all took turns spinning and playing, and in the end, the kids were the winners! No surprise though, they are much more flexible than Mom and Dad!
We took a dinner break and ate up! Jonah ate his weight in dinner. I kinda fear the teenage years with this boy. He is bound to eat me into a deep hole of debt.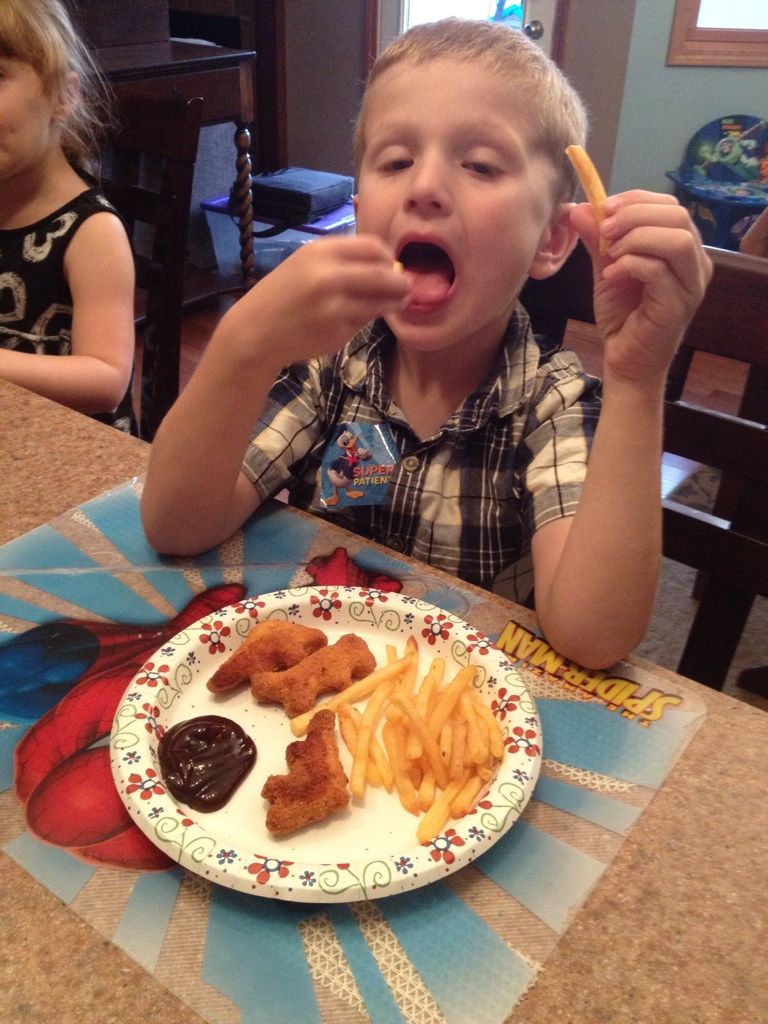 Thanks to
Heinz
,
Ore-Ida
,
Tyson
, Hasbro and Collective Bias for giving us the opportunity for such a fun Family Game Night! We had so much fun!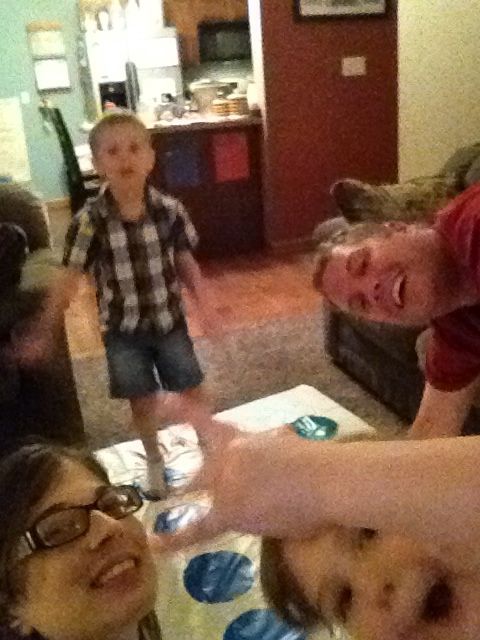 After we got some pretty sleepy kids off to bed, I checked out the
Dip to Play
Sweepstakes page. I once entered the UPC codes from my Heinz Ketchup, Ore Ida French Fries, and Tyson Chicken Nuggets. Once I did that I unlocked the "Game of the Day". If you get a chance, enter your codes for a chance to play some fun games! Just be sure to check out the
Sweepstakes Rules
page too. You can win tons of cool games or Grand Prize package of a $350 Gift Card to the www.HasbroToyShop.com online store, a $125 Prepaid gift card and a library of 25 of Hasbro's most popular board games. How awesome is that?! And you are eligible to enter once a day, so increase your chances and play play play!
Wanna see more from our Family Game Night? Check out my #DipDipHooray
Google+ story
too!
Fine Print:
"I am a member of the Collective Bias™ Social Fabric® Community. This shop has been compensated as part of a social shopper insights study for
Collective Bias
™
Tyson
and
Heinz

. All words, pictures, and opinions are completely my own.
#CBias #SocialFabric"