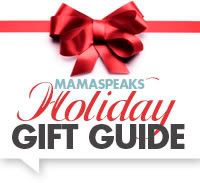 The amazing review site,
Mama Speaks
just came out with their first ever
Holiday Gift Guide
. It is a must see for anyone who plans on spoiling that special someone this year, be it the new baby, the feisty toddler, or the mama or the papa. You're sure to find what you are looking for in this guide. All Mommy Approved! I have already added many of the items in the guide to Jonah's Christmas List.
Here are some of my favorites.
*(Fresh and Green)
The Baby Greens T-Shirts and Onesies
. My personal favorite, Nami. And how can anyone resist, being $14.99 on sale for the T?! Incredible!
*(Toy Joy)
BRIO Natural Building Blocks
. I have been wanting to get something for Jonah that would promote helping him start sitting up on his own. I think once he figures out he can stack and build something with these fun and all-WOOD blocks, he might be encouraged to do so. And at only $18.00 for a 50 piece set, you just can't beat it. What's even better is that if you enter
mamaspeaks15
when you place your order, you get 15% everything in the entire store. I think I will be ordering mine TODAY, who can wait until Christmas?! Not this Mama!
*(Toy Joy)
Anamalz by Hape
. Now, being the extreme animal lover I am, I am bound and determined to show Jonah the sheer joy that they can bring to his life. These would be perfect to get him educate him about all of the different animals as well as fun and interesting toys at that. The Anamalz are pose-able and are made with such a unique grain of wood, that each and every animal is different! Even though they are made in China, they are made to the highest quality standards, meaning no lead paint here! The paints and glues are non-toxic too. Save the Earth without poisoning your kid. Can't put a price tag on that! And the price tags here range from $6-$7. Might as well buy the whole darn zoo!
*(Daddy Dearest)
Dad Gear Diaper Vest
. Now I will say first off that this is a bit out of my price range ($82), but I have been ogling it forever (since well before Jonah was here). I thought, how perfect. Daddy can take the baby out for the day, and all his has to pack up is...his vest! It is cool and stylish (totally Todd's taste). I could see Daddy sportin' this while on their way to the Sporting Goods store, to find something similar for his little guy to wear (and to match his Dad)!
*(Knocked Up)
Pregnancy Pampering Kit
. No, not me!!! Not yet at least! My little sister is pregnant, and due on Valentine's Day! I saw this kit, and thought of her. I know I would have definitely enjoyed this kit while I was riding the pregnancy train, and I know she would appreciate getting pampered herself.
Well, there are TONS more of amazing items that are showing on the Mama Speaks Gift Guide, so check it out. And even better yet, they are of course doing
giveaways galore
! And in true holiday fashion, they are going out of control with SIX different Prize Packs for SIX awesome readers. So ho-ho-hop on over there and get your shopping on!!!